About the Event
Join this panel of experienced board members to discuss how organizations create good board experiences and how happy boards are better fundraisers. How do you engage board members in decisions? Do you provide time for social activities for board members? Do board and staff members have time for positive interchange? Boards that feel engaged with each other and responsible to staff and fellow board members are the best fundraisers. Hear about experiences that make a board fun, and about instances that make a board challenging for participation. Learn how advocacy and fundraising as strengthened by motivating board experiences.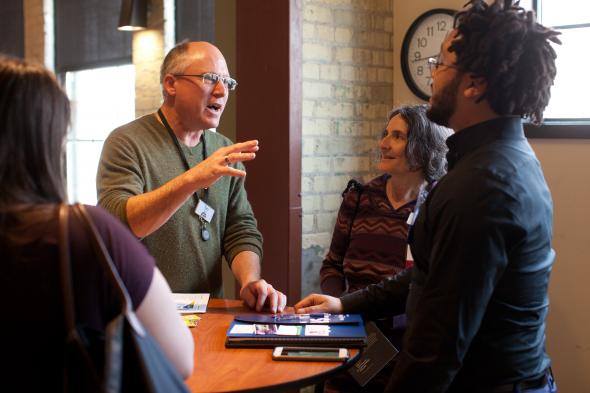 Our Panelists:
Brian Ellison, President / CEO, Deaths Door Spirits
Brian Ellison first started working with farmers on Washington Island back in 2005 as a land planner and economic development consultant.  After working extensively with the group to choose the correct grain and establish sustainable farming practices, Brian studied distilling and decided to develop Death's Door Spirits- named after the passage separating Washington Island from the Door Peninsula.  A nights-and-weekends project until mid-2009, Death's Door Spirits has grown to be a cornerstone brand in the Craft Spirits market with global distribution.
Brian's strength lies in an ability to take a broad idea and distilling it down into executable successful strategy.  Not afraid to get his hands dirty, Brian has literally built his Company from the ground up, being involved in every aspect of the business from grain to glass.  With an easy-going style matched with a dogmatic approach to business, Brian has assembled a team of experts and specialists that have made Death's Door Distillery the benchmark example for the rising Craft Distilling industry. 
Brian holds an undergraduate degree from the University of Georgia and a Master's of Business Administration from IESE-University of Navarra.
Shannon Henry Kleiber
Shannon Henry Kleiber is a producer for To the Best of Our Knowledge, a nationally-distributed public radio show from Wisconsin Public Radio and PRX. She is a former staff writer and columnist for The Washington Post, where she wrote about technology culture for the Business section. Shannon is the author of two non-fiction books, "The Dinner Club: How the Masters of the Internet Universe Rode the Rise and Fall of the Greatest Boom in History," and "On My Honor: Real Life Lessons From America's First Girl Scout."  A Girl Scouts of the USA volunteer troop leader, Shannon is also on the board of directors of the Madison Public Library Foundation.
Sandy Morales, CEO, Big Brothers Big Sisters of Dane County
Sandy Morales is the CEO of Big Brothers Big Sisters of Dane County, the largest youth mentoring organization in Dane County. Big Brothers Big Sisters provides over 600 children facing adversity with strong and enduring, professionally supported, one-to-one relationships with caring adult volunteer mentors. As a result, mentored youth achieve educational success, avoidance of risky behaviors, and social and emotional development.
She's worked in nonprofits for the last 10 years. She learned the ropes of the nonprofit world holding marketing and fund development roles at United Way of Dane County before arriving at BBBS in 2013 to take over as Development Director and then CEO in 2016. Since then Sandy has learned the challenges of working for a small nonprofit with a national brand and with her staff and board, has put together a strategic plan that focuses on positive program outcomes and sustainable growth. 
To support the mission and growth, Sandy has board and leadership roles with BBBS of Wisconsin State Association, Downtown Madison Rotary, Edgewood College School of Business Advisory Board, Sun Prairie Community Schools Executive Team, and the Overture Center Marketing Committee.
When she's not balancing work priorities, Sandy does yoga, works out, and enjoys a good almond milk latte. Sandy is the mom to 6yr old Celeste who loves watching her dad curl at the Madison Curling Club.
Mark Richardson, President, Unfinished Business
Mark Richardson is President of Unfinished Business, a consulting company that helps professionals with career transition. Mark is also the CEO of GigBlender, a technology start up that has created an opportunity matching app. that helps people and organizations find a better talent employment fit.  Prior to starting these enterprises, Mark's most recently served as Vice President of Strategic Partnerships at the Urban League of Greater Madison, Division Administrator at the Wisconsin Dept. of Commerce, and Deputy Secretary for the State's Dept. of Tourism. Mark is an active community leader serving on several Boards of Directors: Dowtown Madison Inc., Starting Block Madison, Sustain Dane, Mann Scholars Educational Fund, and the Monona Terrace & Convention Center. He is also a long-time member of the Madison Network of Black Professionals.
Jim Ruhly, Attorney, Boardman Clark
Jim has extensive experience representing public employers. His employment and school law experience includes collective bargaining, contract administration, grievance processing and arbitration, open meetings and public records disputes, and proceedings before school district boards of education, the Wisconsin Employment Relations Commission, and the state's Equal Rights Division in the Department of Workforce Development. He has also conducted many investigations into alleged workplace harassment or discrimination in the public and private sectors.
Jim's community service includes 10 years on the Board of Overture Center for the Arts, an active member of the Rotary Club of Madison, and the boards of Madison Opera, Dane County chapter of Big Brothers and Big Sisters, Madison chapter of the American Red Cross, the Madison Public Library Foundation and Covenant Presbyterian church. 
Denes Tobie, Partner, Wipfli
As a partner in Wipfli LLP's nonprofit and government practice (NGP), Denes Tobie oversees audit engagements and consulting opportunities and works with clients to maintain compliance with laws and regulations.  In addition, as a leader of NGP's training practice, she trains nonprofits and government agencies in regulations, best practices, and governance.
Our Sponsor:

Event Details
Nakoma Golf Club
4145 Country Club Road, Madison, Wisconsin 53711
AFP Greater Madison

608.224.9092 | erin@afpmadison.org
Nakoma Golf Club
4145 Country Club Road
Madison, WI 53711
United States