Stoughton Students Learn to Dance Thanks to Jonathan and the Madison Ballet
Stoughton Courier Hub and Scott De Laruelle's recently released a full article about our very own AFP GM board member, Jonathan Solari (CEO), and Madison Ballet teaming up with the Stoughton Area School District to bring dancing summer classes to Stoughton. This was a great opportunity to highlight how Madison Ballet is making a difference in our community through partnerships and new ideas!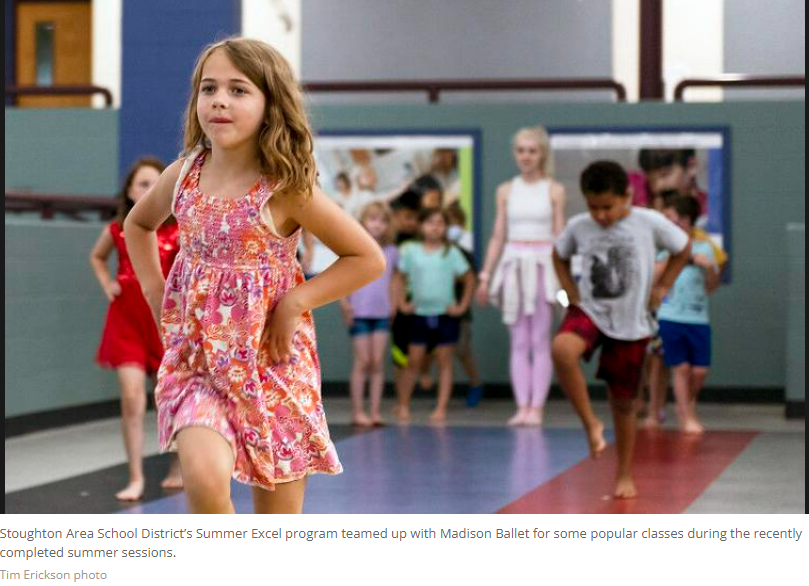 "Madison Ballet, first and foremost, works to serve its community and improve the lives of our neighbors...we just happen to do that through dance. We saw the opportunity to do just that when the Stoughton Area School District told us about the desperate need for students to physically express themselves after returning from online learning. The results were overwhelmingly positive and we hope to extend these focused classes to other neighboring school districts soon. As is so often the case, this work was only possible because of the incredible generosity of our donors and the willingness of other organizations to think creatively about collaboration." -Jonathan Solari, CEO of Madison Ballet
Check out the full Stoughton Courier Hub article. 
Written by: Scott De Laruelle, staff reporter for the Stoughton Courier Hub
 
Stoughton students leaping at the opportunity
SASD teams up with Madison Ballet for summer classes

If there's something kids really love to do, it's moving and dancing around. 
So with that in mind, this year the Stoughton Area School District's Summer Excel program teamed up with Madison Ballet to provide kids some new opportunities to learn about the art of dance - and to have some good, summer fun. 
SASD Summer Excel principal Erin Conrad said the district approached Madison Ballet CEO Jonathan Solari, a Stoughton resident, about bringing the ballet to the city, and he was happy to agree. 
"Jonathan was thrilled to help us bring creative movement and ballet to our SASD students," Conrad wrote the Hub in an email last week. 
District paraeducator and licensed music teacher Angie Kettner agreed to team teach with two guest artists from the Madison Ballet, Lily Edgar and Sarah Minton. Conrad said while she was unsure at first if there would be enough interest to fill a class, the creative movement class was the first to fill up, with an "extremely long waiting list." 
The class, which wrapped up last week, was inspiring for both students and staff, Kettner said, as the young dancers learned and encouraged each other to learn. 
"Many of them were hesitant to let loose at first but now are dancing their hearts out at every class," she wrote the Hub in an email. "It's heartwarming to know that some of these dancers would have never had the chance to try ballet if it weren't for this program. Who knows where this experience will lead them in the future?" 
Minton said she loved teaching the young students, who were "so eager to dance and learn new steps."
"I love sharing with them different possibilities of how we can move our bodies and it's really fun to see them explore what they can do!" she said. 
Edgar said the students brought "excitement and creativity" to each class. 
"As a dancer myself, that is very inspiring," she said. 
District director of curriculum and instruction Kate Ahlgren said the district is "eager to further explore partnerships with Madison Ballet and other organizations to expand the range of our offerings for students." 
"We are always looking for ways to deepen both learning and belonging in SASD, and these expressive, lively and dynamic movement classes have offered a unique opportunity to do both," she wrote in an email to the Hub. 
Conrad said she believes this summer's programming was just the beginning of a "burgeoning relationship" with the Madison Ballet. Also the principal of Kegonsa Elementary School, she said she's already "hatching ideas with our other elementary principals for curricular connections." 
"In third grade, as part of our language arts curriculum, our students grapple with the questions: What makes an artist? What inspires artists? Why is art important?" Conrad said. "Dancer Alvin Ailey is one of the artists we study. Perhaps this year, we could even take a field trip to see a ballet in person!"