NPD Highlights: ReMitts – Outstanding Grassroots Fundraiser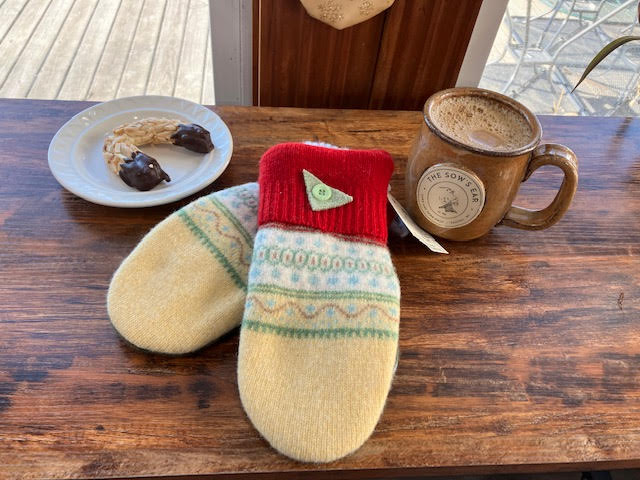 On Thursday, November 10th, the AFP Greater Madison Chapter celebrated the 35th Annual National Philanthropy Day. National Philanthropy Day is a wonderful opportunity to recognize the contributions of those within the philanthropic community and the work they're doing to impact the local community. 
This year's event took place at the Overture Center for the Arts and featured nine honorees, who were nominated and selected from a panel of judges. Each honoree has displayed selflessness and commitment to serving others, so we'd like to continue the celebration by sharing more about the people and organizations from the event. 
This month, we're excited to highlight ReMitts, the recipient of the Outstanding Grassroots Fundraiser award! 
ReMitts was founded in 2009 by Janet Tupy after she had the idea to repurpose old sweaters to make upcycled mittens and a difference in the community. The mittens are made by a dedicated group of volunteers and then sold at local businesses, such as Metcalfe's, Barriques, and St. Vincent de Paul, for $35. All the proceeds raised by ReMitts are donated to local Dane County food pantries to help fight food insecurity. 
The process of turning wool sweaters into mittens may seem complicated, but the volunteers at ReMitts have it down to a science. The process starts with wool sweaters being donated by Madison-area thrift stores and ReMitts' supporters. The volunteers then launder the sweaters in hot water/dryers to shrink or "felt". The next steps include cutting patterns from the felted wool, sewing the patterns and complementary colors from other fabric, and lastly adding a lining to make sure the mittens are warm for the cold Wisconsin winters. 
In ReMitts first year, Janet Tupy raised $4,000, but the growth of the organization has been incredible. To date, ReMitts has raised more than $650,000 for local food pantries! 
ReMitts just wrapped up the 2022 selling season (held annually from November – December). However, you can support ReMitt's efforts to feed hungry people by donating in a variety of ways: 
Wool Sweaters (must be 100% wool)

New Polar Fleece (thin, stretchy, any color)

Buttons (all colors, shapes, and sizes) 

Thread (all colors)

Monetary Donations (for various supplies) 
What started with an investment of $100 to purchase used sweaters, has now turned into more than $650,000 for local food pantries. Thank you to Janet and all of the volunteers at ReMitts for helping to make the Madison community a better place! 
Stay tuned for more articles highlighting the amazing work of our National Philanthropy Day honorees! See more here.