Local Member and Chapter Director Receives Recognition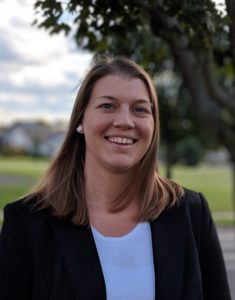 Jen Davie, the AFP Greater Madison Chapter Director, will be recognized this fall with Outstanding Alumnus Award from the UW-Platteville College of BILSA (Business, Industry, Life, and Agriculture). This award acknowledges an alumnus who contributed to a body of knowledge that advances a profession through research or professional activities, has made a significant contribution to society in the form of philanthropic contributions, or has demonstrated visionary thinking and actions.
Jen Davie graduated from UW-Platteville in 2006 earning a degree in Business Administration. Following graduation, she has spent her career fundraising for local nonprofit organizations, as an employee and volunteer. Previous roles held by Jen include the Development Director at the Literacy Network of Dane County and Director of Strategic Relationships and Director of Development at Girl Scouts of Wisconsin. Most recently, she founded Jen Davie Consulting, LLC. Established in 2017, Jen Davie Consulting, LLC focuses on supporting small nonprofits building infrastructure to meet their fundraising goals. 
"I am really grateful for my collegiate experience at UW-Platteville," said Jen. "It gave me the space to explore nonprofit and fundraising work. After a few years of fumbling through this work on my own, I feel very fortunate to have found an entire network of individuals who are dedicated to professional fundraising. I feel like I still have so much to learn and continue to be grateful for the colleagues I have found." 
As part of Jen's consulting work, the AFP Greater Madison Chapter is fortunate to have her expertise as the Chapter Director. She is instrumental in managing communications for the Chapter, developing strategies for growth, and maintain Chapter records. Her vision for the AFP Greater Madison Chapter keeps us all moving forward! 
"Today, as an advocate for the fundraising profession, I want our next generation to know that this is a worthy profession that warrants consideration. I am hopeful that as we continue to elevate the profession by creating a community and utilizing ethical and best practices, we will see more individuals step into this space."
Jen has been a member of AFP since 2011. First starting in the AFP Rockford Chapter and then moving to Madison in 2012. In 2014, Jen joined the AFP Board of Directors as Professional Development Co-Chair. She has since served as President, Communications Co-Chair, and now Chapter Director. Jen received her CFRE in 2014. Jen is also an active volunteer with Sun Prairie Emergency Food Pantry, a coach with Madison Starlings.
Join us in congratulating Jen Davie on the very well-deserved recognition as UW-Platteville's Outstanding Alumnus Award!