Honoring and Celebrating Black Philanthropy Month
Recognized annually in August, Black Philanthropy Month is a global celebration of Black American gift-giving in the form of time, talent, and treasure. We talked to fundraising veterans and philanthropists here in Dane County, Arlen Moss (Co-founder of I-jedi, LLC) and Michael Johnson (President and CEO of the Boys & Girls Clubs of Dane County), about black philanthropy and some of the challenges at their organizations.
Arlen Moss, Co-founder of I-jedi, LLC
Same lens
We have to view "Black" philanthropy in all the same ways we approach philanthropy generally. It's about building and maintaining relationships.  As the twin pandemics of Covid-19 and systemic Racism ravaged the country, it became clear battling these foes would help redefine and expand how we view philanthropy. Several nonprofit organizations led by African Americans have shattered fund development "ceilings" and flourished as philanthropic organizations. These folks have been loosely described as "grassroots" fundraisers. I see them as the future of philanthropy, and we should be cultivating relationships with them just as we do with traditional donors and philanthropists.  
Youth movement and a JEDI foundation
Personal investments, a passion for a cause or ideology, is at the root of most giving. This passion and willingness to give, this personal investment leads to better outcomes in Black communities. A desire to give of one's time, talent and treasure born of activism defines passion. While there are many prominent African American traditional donors in and from the Madison area, those of us in the fund development community would best serve area philanthropic endeavors by promoting, nurturing and amplifying the voices of these (predominantly) young fund development future professionals.
These young folks are investing in a future they are modeling and creating simultaneously. It's a great lesson for all of us. It also reinforces my belief in internalizing, personalizing, our embrace of justice, equity, diversity and inclusion (JEDI) principles and values. These YP fundraisers are our philanthropists of the future. They happen to have JEDI values at the foundation of their work.  They also happen to be very good at raising dollars. Great philanthropists are too often viewed simply as "Givers" when in many cases they are equally adept at making and raising dollars.  We have to build and grow these relationships.
Reach out! Build relationships in the black community
Fund Development professionals need to reach out to Black business owners, Black Clergy, Black UW - Madison alumni et al. Expand our frames of reference and social networks. In so doing, we build relationships with BBIPOC and create opportunities to interact with potential donors. If you don't know any Black people, you are highly unlikely to have Black donors. Build relationships with Black people just as you would with any other potential donors. Although this is simply stated, the work is much more, nuanced and complex. It is difficult, painful work. But the return on this investment is immeasurable. 
Heart work
About 7 years ago, the Diversity, Equity and Inclusion committee of AFP - Madison introduced a series of discussions based upon the contention that embracing JEDI values produces a positive return on investment. During the better part of a decade and most recently in May of 2020, reports from McKinsey & Company buttress and present a deep-dive of this contention. While a "bottom line" approach to the work was likely a good spot to begin the conversation, the intervening years would suggest a shift in hearts and minds to create a sustainable corporate culture with a foundation rooted in justice, equity, diversity and inclusion is the natural evolution of the ideology.

Make DEI committees obsolete and unnecessary
JEDI education is like a muscle; the more you use it, the stronger it gets. When we become the voices of inclusion in our personal lives, we transform the organizations we contribute to professionally. Good people make better organizations, better organizations build great communities and great communities change the world.  When we transform our businesses, for profit and nonprofit, into anti-racist, anti-oppression organizations, growing and improving philanthropy in general is inherently inclusive of Black philanthropy. It reminds me of a simple goal during those early years of the DEI committee; to make the committee itself obsolete and unnecessary. 
Together through a JEDI lens
Though by no means monolithic, Black people are forced to view themselves (ourselves) as racial beings. We must consider the possible ramifications of Black skin each time we leave our homes. This can be a tremendous emotional burden. And while bearing this burden along with typical societal responsibilities and expectations has become second nature, awareness of it tends to trigger historical trauma shared by African Americans. If our White-identifying brothers and sisters learn to see themselves as racial beings, when they carry their share of the burden of systemic Racism as practiced throughout the history of the US, the weight is lessened for us all. It means meeting each other where we are in a spirit of shared acknowledgement. This means decentering Whiteness and understanding that All Lives don't matter until Black Lives Matter. At the risk of sounding pithy, the evolution of viewing all of philanthropy through a JEDI lens creates an environment where Black philanthropy inherently matters.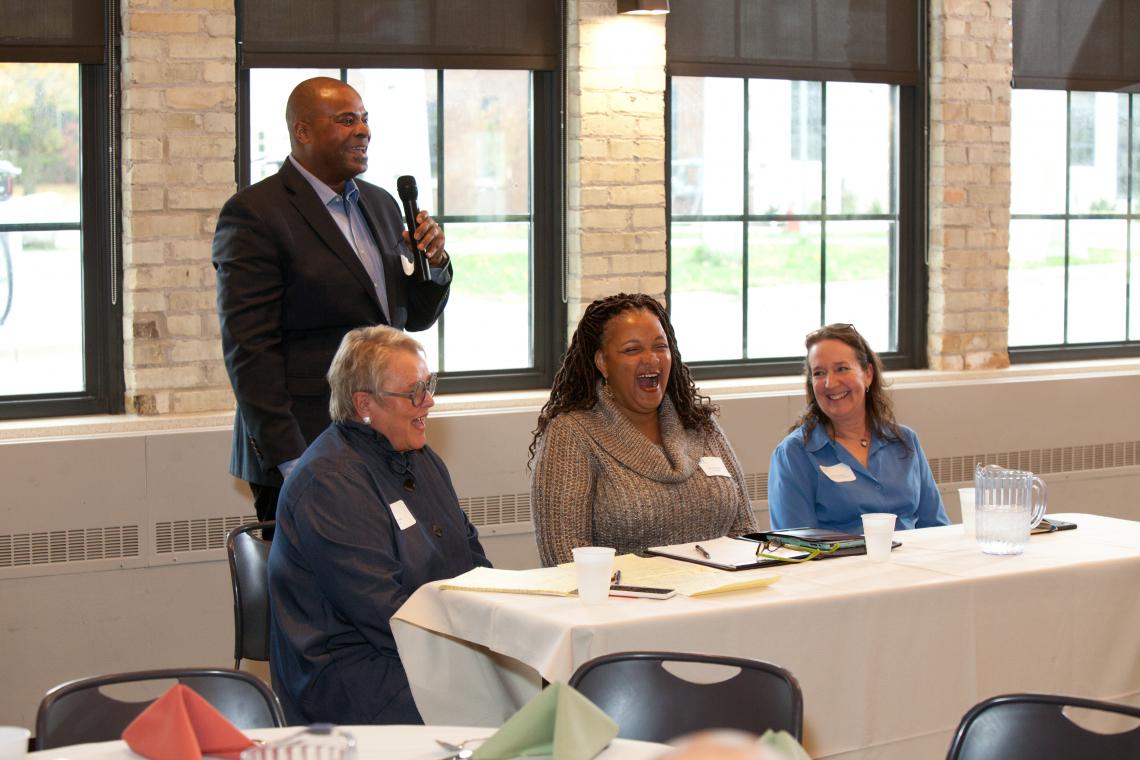 Michael Johnson, President & CEO of Boys & Girls Clubs of Dane County
Tell us a little about the work you do and briefly describe some of the different challenges you face:
I've been with the Boys and Girls club for 12 years. When I took over, we had a lot of challenges - making payroll, our buildings were dark and gloomy, we had a small board. We've grown the organization from about 1,800 donors to about 25,000 and from 18 employees to 172 employees. We've grown about half a million dollars every year, and we've helped over 6,000 kids graduate high school and go on to college. 
One of the challenges I think that we face is that for years, people have been talking about the achievement gap and closing the achievement gap. We run a program that is a public-private partnership, evidence-based, but I can't find people who will give endowed funds to be able to support it. We have to raise $2 million every year to sustain this program. I've been disappointed by that. It's been a challenge to constantly have to raise money year after year to sustain programs.
Can you share something you are most proud of professionally?
We just recently took on a campaign to raise $17 million to have a pathway for kids to not only go to college, but to get involved in the skilled trades. There is a need out there for it. We wanted to make sure that there was a pathway for kids to go to college, but also opportunities for kids who don't want to go to college.
In the last two months, we've raised about $10 million and we have about $7 million more to go.
We went to the business community for help with the skilled trades initiative. I explained that we would need an endowment that would generate $450,000-$500,000 each year in order to sustain it, higher a director, provide stipends for kids, and sustain the program. It's hard every year when you start from a zero-based budget to have to raise millions of dollars every year.
Given the growing and more visible challenges for the community, have you seen a change in donors, giving, and support?
During COVID, I was really concerned about Boys and Girls clubs and our ability to retain staff since our clubs were closed. We decided that if we put the needs of the community before our individual or organizational needs, donors in our communities would support Boys and Girls club in the process. We secured over two million face masks and distributed them out to the community, we raised over $3 million and have it to more than 54 different nonprofit organizations. 
While we were doing that, donors saw what we were doing and wanted to make sure that Boys and Girls club was also covering its costs in order to do that work. A lot of resources going to COVID-related projects and making sure that kids and families had what they need. We saw our donations go up, our average number of gifts go up, and we have a record-breaking year because of the projects that we worked on over the past 24 months.
What are you hearing from your donor communities and those in the populations you serve? How can fundraisers be more at the forefront of addressing those concerns?
Understanding the issues in our community, being connected to people who are impacted by those issues, understanding and being able to articulate the data, and then being able to make a case for how you will help address those issues. You also have to be able to demonstrate what you've done with previous investment, and what the return on those investments have been for the people who have given to your organization.

We are a very data-driven organization. A lot of the time, we use third-party data. For example, the AVID program, we partner with the University of Wisconsin. They have done six or seven reports and the chancellor has gone on record to say that because of Boys and Girls club, the University of Madison has the largest class of students of color in the history of the university.

That is because of the investment of our donors who make sure that kids are graduating from high school and not only going to college but persisting and completing college.
Anything else you'd like to share with our community of fundraisers?
I look at fundraising as friend-raising. Fundraising is all about building relationships and building friends. If you try to go at this work by yourself, it can be very lonely. We've really built up our board and our committees as well as our volunteer base. 
Our fundraising is only as strong as our volunteer base, and I think that's been part of our secret sauce.