Bucky Parades for Philanthropy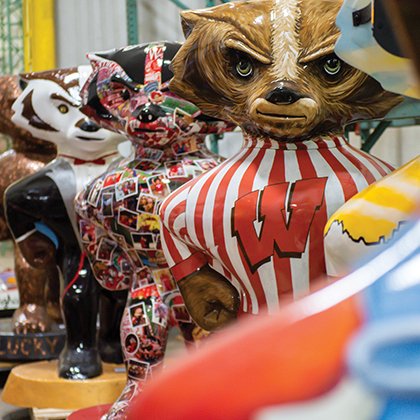 It was hard to miss them last summer. Eighty-five Bucky Badger statues were on display throughout greater Madison as part of Bucky on Parade from May 7-September 12, 2018. Local and regional artists transformed these 6-foot fiberglass statues with everything from glow-in-the-dark paint, to full army fatigues and mosaics.
Produced by the Madison Area Sports Commission, with support from the Greater Madison Convention & Visitors Bureau and in partnership with the University of Wisconsin-Madison, University of Wisconsin Athletics and Wisconsin Foundation & Alumni Association, Bucky on Parade's goal was twofold. First, it aimed to bring people from all walks of life together to enjoy Madison and celebrate art. It also sought to raise funds for charity, with Garding Against Cancer—an organization supporting cancer research, founded by UW-Madison men's basketball coach Greg Gard and his wife, Michelle—as the primary beneficiary.
Before production on the Buckys began, the Madison Area Sports Commission sold statue sponsorships at three levels—$6,000, $15,000 and $25,000—named Drumline, Color Guard and Grand Marshal, respectively. Sponsors at all levels were recognized with a plaque on the statue's base displaying their name, and sponsors at the two highest levels were permitted to keep their statues after the Parade.
The artist's statue designs were submitted for approval and assembled into an online catalog where parade sponsors selected their desired designs, in the order of their sponsorship commitment. This sponsorship model resulted in 56 Buckys being sponsored before the Parade, supporting the production of the Bucky statues.
Billed as the biggest, boldest Badger party of the year, the Finale Party, held at the Kohl Center, served as the celebratory culmination of a summer full of Bucky with a live statue auction as the center point. Revenue was raised through event tickets ($125 each) and the live auction. Twenty-one statues lined the Kohl Center floor that night, and eleven were available for bidding online. The statues up for bid were comprised of statues sponsored at the $6,000 level during the Parade and those statues that were unsponsored during the Parade. The live auction quickly captivated the attendee's attention, with the highest statue going for $47,000!
Anyone who purchased a Parade statue (before the Parade or during the auction) had the option to allocate a portion of their sponsorship to a charity of their choice. Twenty-five statue purchasers chose to "giveback" a percentage of their purchase to a wide range of charities, including Ronald McDonald House, Big Brothers Big Sisters of Dane County, Access Community Health Center, United Cerebral of Greater Dane County and The Road Home Dane County.
By the project's close, $1 million was raised for charity, along with countless memories of a summer to remember.