Award-winning connection: Kelley and Creal share a friendship and passion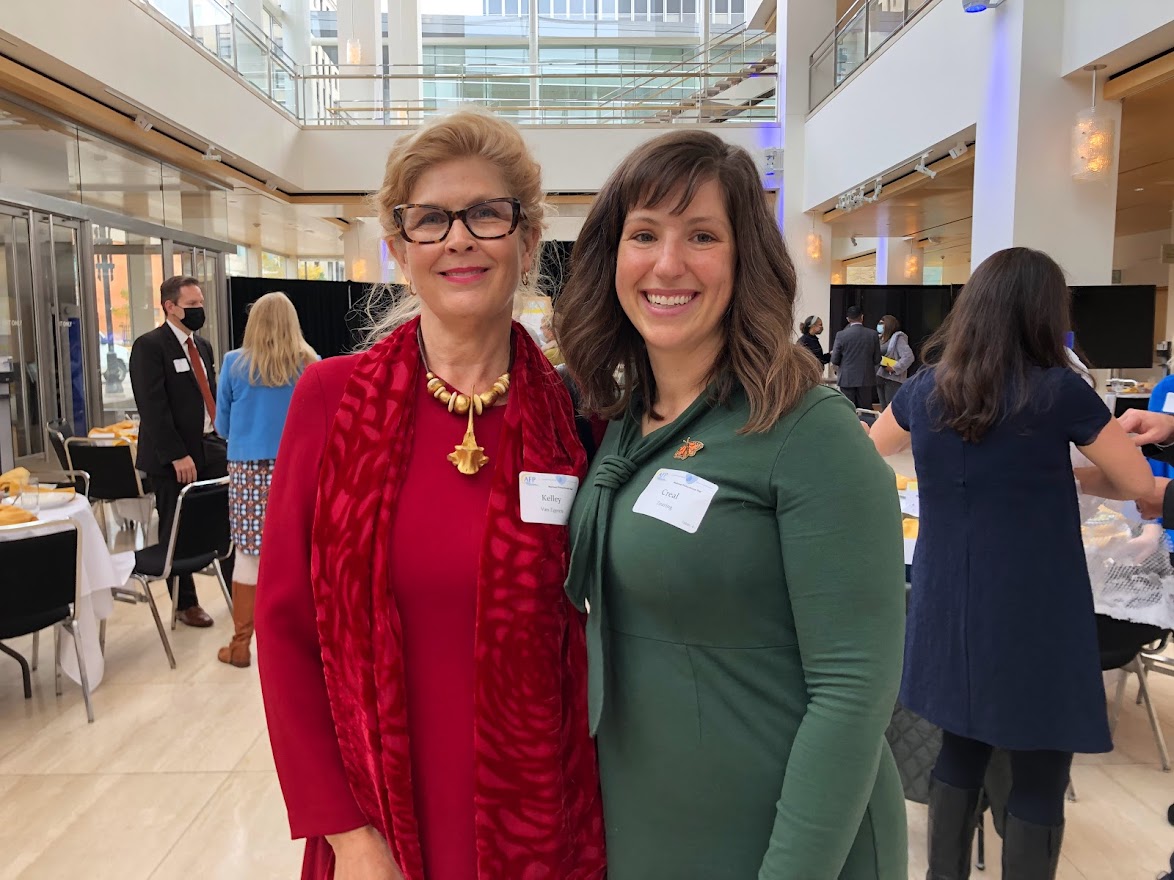 Kelley Van Egeren, the Director of Stewardship and Development, was named Outstanding Fundraising Professional at last November's National Philanthropy Day awards. She was nominated by former colleague and friend, Creal Zearing, the Director of Philanthropy at Gathering Waters. 
We asked them to share about their connection and a little about their environmental fundraising and work in the community.
How did you two meet and how long have you known each other?
Creal: Kelley and I started working together at the Aldo Leopold Nature Center (ALNC) when I came on board in 2014 but she had already been working there for at least 10 years by then. Kelley had her role in development and I was Program Coordinator. Kelley and I developed a nice rapport even though we worked in different departments and, to be quite honest, I really didn't understand what development was at that time or how it worked so a lot of what Kelley did was mystery to me!
I worked at ALNC for three years and when I left Kelley and I would still get together for wine or coffee. I would also volunteer for Kelley's events because I was still very passionate about the mission and wanted to support it.
What lead you to nominating her for the Outstanding Fundraising Professional award?
Creal: When I left ALNC, it was in a period of transition. I was also coming to more and more of a realization and understanding about the weight of the work that Kelley did and also the history of the organization and Kelley's vital role. I also saw her putting her all into her work and the mission of ALNC. I really believed that Kelley deserved recognition for her dedication and this award was truly the perfect opportunity to do that.
How happy were you to hear that Kelley would be receiving the Outstanding Fundraising Professional?
Creal: I was very happy! It truly made my day to find out she was going to get some recognition for all of her hard work.
Kelley: Astonished and honored. I thought it was very sweet of Creal to take the time and effort to write the nomination.
Why fundraising and why Aldo Leopold Nature Center and its mission?  
Kelley: I fell into fundraising, as many of us do, and found it rewarding to connect donors with causes they are passionate about. ALNC's mission, to engage and educate current and future generations, empowering them to respect, protect, and enjoy the natural world, is dear to my heart.  I was fortunate to grow up surrounded by nature and with free reign to roam, my curiosity took me far and wide in my quest for adventure. I do believe, like Aldo Leopold, that every child has a birthright to connect with the land and I love to see kids experience the joys of Nature.     
What have you learned from each other?
Kelley: "Don't go Creal, Creal don't go" That was the refrain heard around the Nature Center when we learned Creal would be leaving us to advance her career and follow her passion for non-profit development.  While we were all sad to see her go, we were happy for her to advance to a position of greater responsibility and for a chance to make a difference in the Madison community.  Throughout our careers Creal and I have stayed in touch, inspiring each other to do the good work all of us in the fundraising field have the privilege to accomplish. "Go Creal go!"             
Creal: Specifically, Kelley has been a strong role model to me in the field of fundraising. She has built out an incredible portfolio of supporters for ALNC that includes a wide array of businesses, grant-making entities, and volunteers. And, she truly has authentic and unique relationships with all of these groups.

I've also learned from Kelley how appreciative and gracious you should be as a development professional. The work that we do is so behind the scenes and we're not meant to be the people getting recognition or attention. That's reserved for donors and non-profit leadership. She is so good at setting the stage so that others can shine. That includes not just donors and leadership but also, probably most importantly, those who benefit from the mission of ALNC. 

Earth Day was on April 22… Why are organizations like Aldo Leopold Nature Center and Gathering Waters important to our Madison/Dane County community?  
Kelley: Simply, we believe that when we engage students in positive, hands-on experiences in nature, their curiosity is sparked and a lifelong connection to nature is made. When we educate students by nurturing a better understanding of the world around them, we foster an environmentally-literate generation empowered to take positive personal, ecological, social, and fiscal actions for the betterment of our community, now and into the future. 
Creal: One of Gathering Waters' primary activities is advocating for a program called the Knowles Nelson Stewardship Program. The KNSP is a statewide funding program (through tax dollars) that funds land and water conservation in Wisconsin. What I like to say then is that the KNSP is the Wisconsin that you know and love. Therefore, the KNSP has defined and shaped not just Madison and Dane County but the entire state. Without this program, our quality of life and access to the outdoors and outdoor amenities in Wisconsin would look very different. More info about KNSP here.
Bonus: Earth Day (April 22) fun facts!
Kelley: In celebration of the weeks around Earth Day, National Environmental Education Week, and the spring season, enjoy a range of free and low-cost family events each day. Nature Net, founded by and facilitated by the Aldo Leopold Nature Center, offers the community a variety of opportunities to enjoy the nature and become motivated to make a difference in the health and sustainability of the environment.  Check out Nature Net's events schedule and mark your calendar for a Bouquet of things to do, explore and learn about this Earth Day season.
Creal: The Knowles Nelson Stewardship Program, which I described above, is named after Warren Knowles and Gaylord Nelson, both past governors of Wisconsin. And Gaylord Nelson is also the founder of Earth Day! How's that for a way to tie a bow on this?!